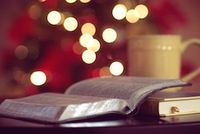 We can hear the Christmas story read to us in church, shown to us through a nativity play or spoken to us through an online message but nothing compares to reading about the birth of Jesus personally. Find a quiet place where you can purposefully read Luke 2:1-21. 
Read through the passage more than once, seeing if you take note of new parts of the story the second or third time around. Maybe read it out loud as well. Finally, reflect and pray to the Lord about what the gift of Jesus means to you. Think about how Jesus was sent to bring peace and joy to your heart and deliver you from worry. 
Read the Christmas story on this, "Not Gonna Worry" Wednesday. 
Today in the town of David a Savior has been born to you; he is the Messiah, the Lord. Luke 2:11