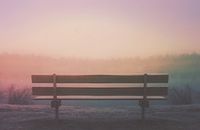 Often our worries are the result of our impatience with God, not believing He will take care of our circumstances as quickly as we would like. What we don't realize is that God may be delaying for reasons that we don't understand that are actually good for us. The Bible says we develop many good qualities like perseverance, character, and hope when we go through times of trial and challenge. It could be that God is refining and developing these or other valuable traits in you. 
Patience is also something that doesn't just come naturally. We have to work at it. Remind yourself that God will be with you in the wait and will provide you with everything you need. Trust in His timing because it is perfect. 
Practice patience on this "Not Gonna Worry" Wednesday.
Not only so, but we also glory in our sufferings, because we know that suffering produces perseverance; perseverance, character; and character, hope. 
Romans 5:3-4