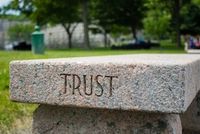 Trusting in God is the ultimate solution to worry. This can be extremely difficult, however, when we are in life situations that we don't understand, that are maybe causing us suffering or seem unfair. When this happens we need to first recognize that we know infinitely less than God does about what is best for us. Then, we need to lean in to who God is and what He promises. He is merciful, kind, compassionate, faithful, and good. He can therefore be relied upon as our Father, Protector and Friend. 
God doesn't promise us a life free from hardships, but He does promise to always be there with us. He also promises to strengthen and mature us through the process, if we let Him. 
Let go of needing to know all the details of how your life with play out. Trust without needing to understand on this "Not Gonna Worry" Wednesday.
God's voice thunders in marvelous ways; 
    he does great things beyond our understanding. 
He says to the snow, 'Fall on the earth,' 
    and to the rain shower, 'Be a mighty downpour.' 
Job 37:5-6