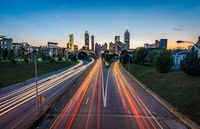 It is easy to think of worrying as a natural harmless activity. We justify it with excuses saying we worry because we care so much or our dilemma is too big to not worry about it. But this is not based on any biblical truth. 
The Bible speaks of a doubter or worrier as being double-minded, holding opposing views, waffling back and forth depending on the circumstances. For example, we can believe that God is our provider and then also worry about not having enough money coming in to support our lifestyle. The Bible warns that having this double mindset will only confuse and lead a person further astray from God's peace and stability. Jesus says we cannot serve two masters. We must choose. Now, before we think that is too hard, we must remember we have the gift of the Holy Spirit to guide and nurture us along in the process. 
Choose today which one you will serve - the peace of Christ or your own self-destructive worry. Be of a single mind on this "Not Gonna Worry" Wednesday.