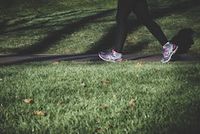 Physical exercise produces endorphins that act in your brain as natural painkillers, reducing stress and giving you a general sense of well-being and peace. Working out in any way is therefore a great recipe for minimizing worry.  If exercising is new to you, be sure to start slow and easy, so it can naturally become a routine that you will look forward to. If you already have an exercise regime, maybe now is the time to change it up and try something new. 
Take a brisk walk, go skiing, find a training video online or put some music on and dance around your house. It doesn't matter what you do as long as you are moving for a few minutes at a time a few days a week. 
Exercise your worries away on this "Not Gonna Worry" Wednesday. 
Therefore, I urge you, brothers and sisters, in view of God's mercy, to offer your bodies as a living sacrifice, holy and pleasing to God—this is your true and proper worship.  Romans 12:1