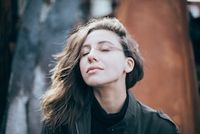 Deep breathing techniques have been shown to relax the body and the mind, and there is no way worry can reside in a calm and carefree environment. 
Next time you feel stressed, try this simple deep breathing exercise. Breathe in through your nose for the count of two, then slowly out through your mouth for the count of four. Purse your lips as you are breathing out like you are slowly blowing out a candle. You can also add a spiritual truth to meditate on as you do this, such as, "Father God," as you inhale and "With you I will find peace and rest" as you exhale. Do this for two or three repetitions and notice any change in how you feel. 
A great feature of doing deep breathing is that it is available to you anytime and anywhere. Breathe deeply and exhale your worries on this "Not Gonna Worry" Wednesday.
Let everything that has breath praise the Lord. Praise the Lord.  Psalm 150:6