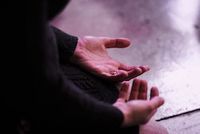 Worrying is all about false control. Ruminating on thoughts about the outcome of our situations comes easy and natural, therefore, at times, feels oddly comfortable. Yet, it is really just a trick, and before we know it, we are hopeless and miserable. It also implies we know best about what should happen in our lives. The truth is God knows what is best for us. 
Releasing control does not mean that we need to let go of our God-honoring dreams or the promises He has made to us. It simply means we surrender our will over to the timing and way He will fulfill these plans. 
Hand over your worries to the One who is much more qualified and cares about you more than you know. Release control and find new freedom and peace on this "Not Gonna Worry" Wednesday. 
Surrender to God! Resist the devil, and he will run from you.  James 4:7 CEV