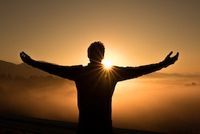 To worship means to give reverence and devotion to something or someone. How much attention do you give your worries? Do you ruminate over these negative fearful thoughts? Are you often talking about your worries to others? 
Sacrificing your time and energy to worry is in essence worshiping it. Turn this around by praising God, Your Father, the provider of all your needs. Worship Him in prayer, reading the scripture, singing praise songs, and kneeling and bowing your head in reverence to Him. Any activity that brings glory to Him can be considered an act of worship. 
Focusing on who God is and all we appreciate about Him doesn't let worry gain any ground. Worship God on this "Not Gonna Worry" Wednesday.
I will extol the Lord at all times; 
    his praise will always be on my lips. 
I will glory in the Lord; 
    let the afflicted hear and rejoice. 
Glorify the Lord with me; 
    let us exalt his name together. 
I sought the Lord, and he answered me; 
    he delivered me from all my fears. 
Psalm 34:1-4