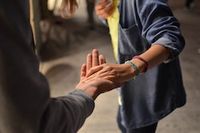 When we are worried and stressed, all focus is on ourselves. Noticing and finding ways to bless others can be a great way to redirect this focus and rid ourselves of self-absorbed worry. 
Pray for God to show you ways you can help those around you. Invite someone out for coffee. Offer to help your neighbor. Volunteer in your community or at your church. Being a blessing could even be something as simple as smiling at a stranger. Acts of kindness also bring purpose and joy, and it's hard to worry when you are filled with purpose and joy! 
Be a blessing to someone today and don't be surprised if you become blessed with no worries on this "Not Gonna Worry" Wednesday. 
A generous person will prosper; 
    whoever refreshes others will be refreshed. 
Proverbs 11:25