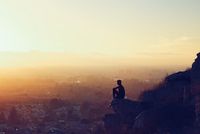 As can be expected, our worries are often about the potential of bad things happening to us or our loved ones. Of course, we should try to avoid evil at all costs, but the reality is that we cannot escape it. Even Jesus was not delivered from the effects of wickedness in the world. 
The problem is not the fear in itself, however, but what we do with this fear. We can internalize it and let it fester, or we can change our perspective. God promises to always be with us, and to share His strength, comfort, courage and hope with us when we are walking in darkness. He even promises to use whatever suffering we go through for good. He also designed us to reach out to others for help, support and encouragement. 
Knowing all that God provides and promises we are left with no reason to worry about evil. Fear no evil on this "Not Gonna Worry" Wednesday. 
Even though I walk 
    through the darkest valley, 
I will fear no evil, 
    for you are with me; 
your rod and your staff,
    they comfort me. 
Psalm 23:4