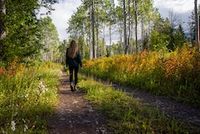 The busier life gets the more vulnerable we are to stress, anxiety, and worry. This is especially true during the holiday season with all of the extra tasks that are heaped onto us by ourselves and others. 
Be mindful of keeping a steady pace. Evaluate your to-do lists. Is there anything you can let go of or delegate? For example, maybe you can skip sending Christmas cards out this year. Be sure to prioritize what is important to you. Hopefully, of utmost importance to you, on the top of your list, is to celebrate the birth of Christ who came to give us all perfect peace. 
Keep a steady pace and you will keep your peace on this "Not Gonna Worry" Wednesday. 
I have seen something else under the sun: 
The race is not to the swift 
    or the battle to the strong, 
nor does food come to the wise 
    or wealth to the brilliant 
    or favor to the learned; 
but time and chance happen to them all. 
Ecclesiastes 9:11